The Exciting new Irving Bi-fold Handle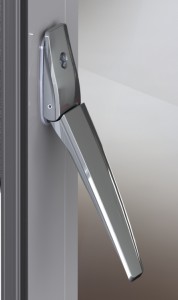 The new Irving operating handle, part of the Irving Shootbolt suite of bi-fold hardware products. represents yet another 1st for J Banks, one of the UK's leading manufacturers in the design, development and production of innovative hardware products.
Since the design concept for the Irving Handle was unveiled at the last FIT show, the Company has been overwhelmed with the positive reaction to the Irving handles anti-finger trapping design and solid, fully tested die cast construction that delivers a consistently smooth positive action and ensures a reliable lifetime performance.
J Banks has now officially launched the Irving Handle as part of the Company's suite of both standard and bespoke Bi-fold hardware products.  With its super slim styling and aesthetically pleasing design, Irving is the ideal handle to complement the Company's recently launched super slim line gearbox and shoot bolt system.
Specifically designed to meet the exacting specification called for in the latest slim line profiles, the Irving shoot bolt range of products offers the perfect combination of quality design innovation and performance.
Available in a range of finishes and spindle lengths, the Irving handle also incorporates a patented key locking mechanism together with a unique key safe mishandling feature.
For further information on the Irving Handle range or to discover how we can assist you in becoming 1st in the market, please contact us on 01902 864863 or email sales@jbanks.co.uk