J.Banks awarded ISO 18001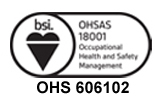 As an integral part of Banks's continuing programme to be at the forefront in engineering design, development and manufacturing excellence, the company is now proud to announce that they have been awarded ISO 18001, the nationally recognised British standard for occupational health and safety management system.
In addition to the company's well established accreditations of BS ISO 9001and ISO14001, their latest accolade, OHSAS 18001, is a further endorsement of J.Banks position as one of the UK's leading industry innovators and manufacturers of safety, security and hardware products.
The ISO 18001 accreditation is seen as one of the worlds most respected and recognised health and safety management standards and is specifically designed to demonstrate the company's good practice in promoting a viable framework for effective health and safety performance.
Commenting on the company's latest accreditation J.Banks Health and Safety Manager Ian Malugani said "As responsible employers we are committed to ensuring that we provide a safe and healthy working environment for our employees. We consistently identify and control potential health and safety risks, strive to reduce the possibility of accidents, aid legislative compliance and improve overall performance".
With J.Banks planning to expand its range of products with the introduction of a number of exciting new products over the next few months, the management consider the importance of these key accreditations as a vital element in the company's continuing success